I keep stressing how (for me) this is less about the tailgate and more about the tools in the bed, so may as well show the bed cover. This is where I'm at so far (not very far):
Some scraps of 3/16" aluminum sheet cut and shoddily "welded" into the general shape of my bed.
I had to weld in a 3" strip in the middle to make the two sheets cover the whole bed. Turned out badly. I hate welding aluminum. I thought I was extra careful to not get too much heat in it, only little stitches an inch long, every foot or so, let it cool, come back and do it again, repeat. Nah, still warped. I'm going to cut out the middle section and replace it with a wider strip and probably not weld it this time, just silicone the seams. There will be 3/8" HDPE sheet (or maybe UHMW if I can get some for a reasonable price) over the top of the aluminum, nobody will see it.
This picture represents the completeness of my thoughts about how it's going to attach to the truck: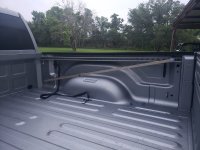 It's going to be a scissor lift action or something close to that. I've decided to make everything out of unistrut as I've got a lot of it laying around and it's like an erector set for grown men. Since I'm just going about this renegade style, no drawn plans and only half thought out mental ones, the unistrut will offer maximum flexibility to my mechanisms functioning as intended. I'll be able to tweak the hinge/pivot points and gas strut mounting points.
Here's how the scissor action will happen: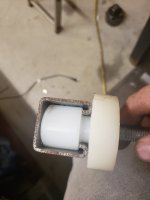 I cut these plastic slider things on the lathe out of UHMW drops. They're round but they're not intended to be rollers; it would be better if they were rectangular but I found it's a lot easier to make things round when using a lathe. they're a tight-ish fit so there's very little slop but they slide freely inside the unistrut with no lubrication.