Active Member
Staff member
Nov 21, 2018
191
88
28
41
Just bought a 2015 RAM 2500. Got it to be my do all truck so my 99 can be made whole again and so I can begin contemplating that new Powerwagon.
6.4l Hemi is awesome. ECO mode comes on much more than anticipated.
The Ride with the coil spring rear suspension is everything they claimed it to be.
I didn't realize just how loud that ole V10 with cherry bombs was until I got into this truck...quite and no Cummins noise either.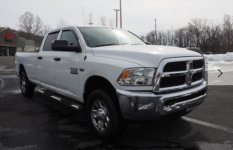 The long bed is much more practical for me, and the rear view camera and park sense bumper make parallel parking a snap.